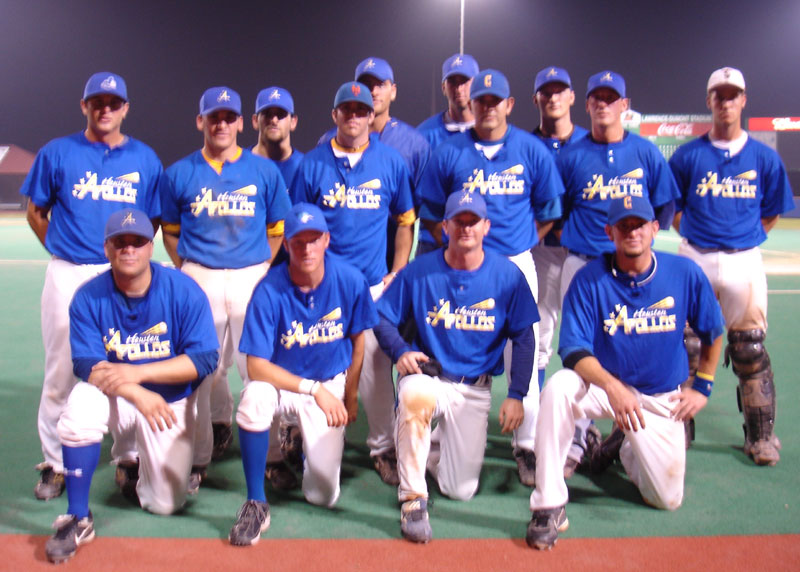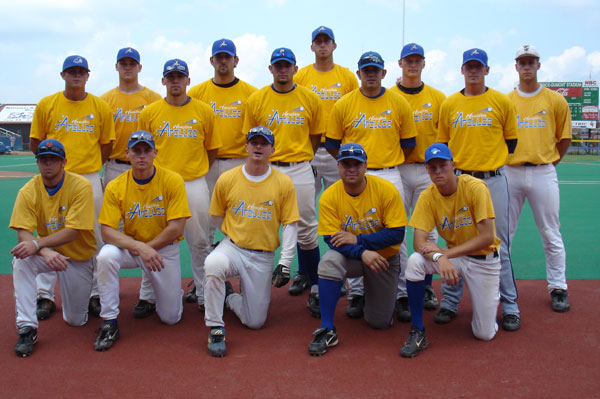 The Apollos had their best NBC World Series ever winning 3 games. The Apollos were leading the tournament in stolen bases and base hits playing 5 games in 6 days winning three of them. Russell Revere pitched two complete games winning both of them in tough battles. Russell should be an all-tournment pitcher. Ben Theriot caught excellently for the Apollos and won a game pitching. Derek David and Ross Shores had solid tournaments. Brett Biggs could have been the Apollos best position player with consistant clutch hitting and flawless 2nd base. Lupe Mendoza played solid 3b/SS. Manny Lujan and Andrew Dunn each had multiple 3 hit games and won a game each with their offense. Robert Carroll played a great centerfield and had some huge hits. Tim Brown had a great tournament and was leading the tournament in stolen bases before he left for vacation in Oregon. JC Bedengard pitched a great game for the Apollos. Nate Smith pitched the best 3 innings for the Apollos striking out 6 batters and getting a save. Jay Hall did a great job for the Apollos as a bench player.
---
Newton Rebels 13 Houston Apollos 11
---
The Apollos took the field against the Newton Rebels at Maize High School in the middle of cornfields in Kansas. From the beginning things looked like a huge mismatch as the Newton Rebels had a full 28 man roster. The Apollos were down to 12 players and sent Ethan Brown to the mound for his 3rd career start as an Apollo. Ethan was not ready for the pro level strike zones as he walked 4 out of the first 5 batters he saw. He then allowed a home run and was removed with the score 5-0 in the top of the first inning. Cody Elliott came in and brilliantly for 4-2/3 innings. He allowed 4 runs and kept things close. The Apollos did not give up trailing 8-0 they rallied with a Brett Biggs two rbi double to make the score 8-2, Andrew Dunn's single made the score 8-3. The Apollos then struck big time in the 6th inning scoring 4 runs in the 6th inning after Andrew Dunn was ejected. The Newton Manager was ejected in the next inning. The Apollos were down to no reserves. The Apollos put up one of their strongest rallies ever actually tieing the game at 11-11 in the seventh inning by scoring 5 runs capped by Ross Shores bases loaded triple and Brent Beckers ground rule double. Newton was on the ropes with the game 11-11 with no outs and a man on third in the 7th. Newton brough in their powerful closer and he stopped all rallys. Lupe Mendoza had came in from 3b to relieve Cody in the 5th. He pitched ok allowing 2 runs in the 6th, but gave up a homer and back to back doubles in the 8th before being removed. The Apollos were left with no choice but to put Russell Revere in the game with no reserves and no position players. He pitched well stopping the rally but the Apollos could not generate offense off of Newton's White Shoes closer. The Apollos made countless mistakes and didn't realize they would be in the game.. Brett Becker's failure the throw home with drawn in infield and a ball over Robert Carroll's head in center. Brett Becker had 3 hits, Andrew Dunn had 3 hits, Ross Shores had 3 hits.
---
NBC World Series Game 4
---
Houston Apollos 6 Denver Cougars 3
---
The Apollos played the Denver Cougars at Lawrence Dumont at 1:00 AM Saturday Morning and pounded out 13 hits and scored 6 runs off of a pretty good Cougars pitching staff. Russell Revere pitched and threw all 9 innings for his 2nd complete game victory in 5 days. Andrew Dunn and Robert Carroll each had 3 hits. Manny Lujan and Ben Theriot had 2 hits as the Apollos stayed alive for another day. The game ended at 3:34 AM. Russell Revere walked 2 and struck out 7 and pitched excellently.
---
NBC World Series Game 3
---
Houston Apollos 6 Haysville Astros 4
---
The Apollos played again at 8:00 AM and came out dead. Ben Theriot threw 6 strong innings striking out 9 allowing 4 runs. Nate Smith came on to pitch the final three innings and he struck out 5 and was very effective with his Oklahoma Slider. He didn't get into trouble. Manny Lujan and Andrew Dunn had two hits, Dunn scored two runs. Tim Brown again scored two runs and continued solid play.
---
NBC World Series Game 2
---
Colorado Bombers 5 Houston Apollos 3
---
The Apollos faced the Colorado Bombers and broke out their Gold Jerseys on the sizzling 2:30 PM Kansas Astroturf. JC Bredengerd pitched excellently for the Apollos his lone mistake was made in the 2nd inning when he walked the first two batters on 8 pitchs and then gave up a homer to Mike Zarlengo of the Bombers. Cody Elliot came on to finish out the game pitching 2/3 of an inning. This proved to be the difference. He only allowed two more runs in the 8th. Derek David and Manny Lujan carried the Apollos each getting 4 hits in the game. The Apollos never could get the big inning going, despite being tied entering the 8th inning at 3-3.. There were several margin calls on Robert Carroll at first base.
---
NBC World Series Game 1
---
Houston Apollos 6 Springfield Missouri Generals 5
---
Brett Biggs, Ben Theriot, and Russell Revere carried the Apollos who played very poorly defensively but got timely hitting and baserunnning to steal a game from the Generals. Russell Revere pitched all 9 innings competing the best he could only walking one. The Houston Apollos opened their trip to the 2007 NBC World Series by facing the Springfield Generals. Things did not start well for the Apollos. The Generals came out swinging and scored two runs. The Generals scored runs in the 1st and 3rd with multiple hits. The Apollos answered in the bottom of the 4th with Brent Biggs single scoring two runs. Springfield scored again in the 6th on two hits and the Apollos answered with a double steal with Brent Biggs and Derek David 1st/3rd scoring a run. The game was tied going into the 7th and the Apollos really fell apart defensively. Manny Lujan threw a ball over the first baseman's head and then Tim Brown misplayed a ball in centerfield. The Generals punished the Apollos with these errors by pounding two hits and scoring two runs. After both teams went scoreless in the 8th and the Generals went scoreless in the 9th the Apollos were left with one last chance. Tim Brown lead off and reached and a throwing error by SS who threw the ball away allowing him to reach 2b. Brent Biggs singled, Lupe Mendoza walked leaving the bases loaded and forcing the Generals to bring in their closer. Ben Theriot greeted him with a game tieing single and after Andrew Dunn lined out to the first baseman. Robert Carroll singled over the drawn in infield to end the game. Ben Theriot ended two innings for Springfield by throwing out runners and was the only defensive advantage the Apollos had. The Apollos were out hit and out played defensively but came through in the bottom of the 9th when it mattered most.
---
Game 11 Austin Gold Sox 7 Apollos 6
---
The Apollos finally got their clutch hitting but could not hold a lead in the late innings. Cory Williams started but didn't get out of the 2nd inning before allowing two runs and was removed. Jordan Hook came on throwing 5-1/3 innings allowing only two runs and giving the Apollos a real chance for victory. Ramsey Nino couldn't hold the lead in either the 8th or the 9th. The Apollos lead 5-4 in the 8th but allowed a leadoff walk and a run. And in the 9th the Apollos lead 6-5 but after walking the first two batters. They would eventually score with bases loaded and two outs and a full count for the Austin victory. The Apollos scored their first two runs on Alex Johnson's bunt that was thrown into left field scoring two. Andrew Dunn drove in Jordan Puschar but Dunn and Anthony Covent made outs at third in the same inning. Ross Shores drove in two runs with a huge hit in the 8th. Derek David then drove in what would be the winning run in the 9th. Bob Pfaff and Derek David got on base three times and scored two runs. After a delayed tournament it was amazing that any games were played and the Apollos were ready to leave Round Rock.
---
Game 10 Lubbock Hubbers 6 Apollos 1
---
Lubbock 0† 0† 0† 0† 5† 0† 0† 1† 0†††† 6†† 9†† 1
Houston 0† 0† 0† 0† 0† 0† 0† 1† 0†††† 1††1†† 0
Thomas Keeling of Oklahoma State pitched 7 1/3 innings of one hit ball before tiring and walking four batters in the 8th.† Hubbers got six of their nine hits in the 5 run 5th.† Chris Hall of Texas Tech was 2-5 with 2 rbiís and Armando Dominguez of Lubbock Christian had a two rbi single.†Apollos left bases loaded twice. Mike Macglothlin started for Apollos throwing 4 scoreless before giving up 5 runs with 2 outs in the 5th. Ramsey Nino threw two scoreless and Hugo Arenas threw 2 innings allowing 1 run. After waiting two days and moving fields the Apollos finally got to play. Ross Shores lead the way for the Apollos reaching base twice. Alex Johnson had an rbi walk scoring Andrew Dunn for the only run.
---
Game 9 Apollos 5 Houston Heat 4
---
Bob Pfaff continued to carry the Apollos, this time with a two run home run which put the Apollos up for good. Also he caught this game and used his patent pickoff move to get his 5th runner of the summer. Andrew Dunn scored two runs and stole two bases and Ross Shores, Anthony Covent and Killen Kinart had two hits apiece but the Apollos couldn't capitalize on scoring chances. Kyle Spangler started going three innings before hitting a wall, he allowed 4 runs and was tired after playing the previous game at 3b. Ethan Brown came in and did a marvelous job throwing 4 innings and using his defense to get him out of all the jams... The Apollos stole this game from the Heat after failing to drive in runs and hitting into double plays. They escaped their only home series at the Sportsplex with a sweep of the Heat.
---
Game 7 Apollos 4 Houston Heat 1
---
The Apollos got an excellent start from Cory Williams who throw 6 innings allowing only one run. Bob Pfaff and Anthony Covent generated the offense, Anthony with an rbi single and Bob with a two rbi single, All the Apollos runs came in the 4th. This was a pitching dual until the Apollos broke it open. Kyle Spangler and Chris Hermann also doubled. The offensive chances were limited, the Heat used 4 pitchers.
---
Game 8 Apollos 17 Hornets 6
---
The Apollos got a 17-0 lead on the Hornets by scoring at will in the first three innings. The Hornets foolishly attempted to steal bases on Killian Kinert who threw out every attempted base runner, Mike MacGlothlin did not allow a run in two innings Frank Corolla stuggled and allowed 5 runs in two innings, Alex Johnson also allowed a run. Another big game for Derek David, Anthony Covent and Chris Herman.
---
Game 7 Apollos 3 Saints 2
---
It was Hugo Arenas bobblehead night at Klein Forest as Hugo made his Apollo debut, he entered a 2-2 tie game and threw 2 scoreless innings, then with the DH removed Hugo stepped up to the plate with 2 outs and hit a line drive to center field to drive in the winning run and somehow he made it to first base. Alex Sample allowed two runs in the first inning by walking three batters and has been designated for assignment. He did not get out of the first inning against the Saints, Kyle Spangler struck out 5 of the 6 batters he faced and Ramsey Nino threw 2 scoreless, Derek David continued his hot hitting.
---
Game 6 Apollos 3 Saints 1
---
The Apollos played very poorly in a 3-1 win over the Saints. The Apollos got 8 hits in 5 innings and managed to score just three runs against the Saints pitching Staff. The Saints pitchers only walked one batter and played solid defense but were far from overpowering. The Apollos lead the game off with a single from Andrew Dunn, double by Derek David, single by Bob Pfaff (scoring Dunn and David) and ended the first inning with Tim Brown single that scored Pfaff. The Apollos did not score after this. The Apollos got a real solid start from Panola pitcher Cory Williams who pitched three innings not allowing a hit and allowing one run. He struck out 5 and got no support from his defense making 5 errors. Ethan Brown came in to throw two innings striking out 4, walking 2 and allowing 3 runs, he also busted a batters nose open. The Apollos second game against the Houston Heat was rained out with a torrential downpour about 10 minutes at the end of their first game.
---
Game 5 Apollos 8 Houston Heat 2
---
This game served as the Championship game of the round robin tournament and was a rematch of a game Saturday. Derek David homered in the first inning to give the Apollos an early lead. Tim Brown, Anthony Covent, Ross Shores, Louis Lee and Andrew Dunn followed with consective hits/walks giving the Apollos a 5-0 lead. In the 3rd inning the Apollos struck again with Alex Johnson's double, Tim Brown's single, Anthony Covent's triple and Andrew Dunn's single. James Cantrell made his Apollos debut going three scoreless innings looking strong and striking out 4. Stephen Alexander walked three batters before being removed for Louis Lee who came on to get the last two outs. The Apollos were named tournament champions going 4-0 in the tourament and allowing 5 runs in 4 games.
---
Game 4 Apollos 7 League City Hornets 4
---
Mike MacGlothin threw all 5 innings in a good outing against LC Hornets. The Apollos faced their most difficult challange of the tournament with the difficult pitching staff of the League City Hornets. Bob Pfaff took offensive matters into his own hands, hitting a sacrifice fly to score Andrew Dunn. Pfaff then hit a two run home run scoring Derek David. The Hornets came back and tied the game at 3-3 leaving one inning to be played to break the tie. Louis Lee singled to lead off the inning, stole 2nd. Andrew Dunn bunted scoring Lee and reached 1st. Dunn stole 2nd and reached third on Derek David's groundout. Bob Pfaff and Chris Hermann walked, Alex Johnson singled scoring 2 more. Tim Brown singled and was thrown out stealing. The Apollos took a 7-3 lead into the bottom of the inning and Mike MacGlothlin only allowed one run and escaped a potential Hornets rally. Alex Johnson and Chris Hermann made two key double plays in first and second inning that made a huge diffence in the outcome of the game.
---
Game 3 Apollos 8 Houston Heat 0
---
This was the first game of the summer for the Heat. Mike Wilson started throwing two scoreless innings striking out 2. TJ Knowles threw three scoreless innings, using his defense. Mike Wilson lead the game off with a 2b and a run in his only at bat. Derek David went 2-3 with 2b, 3b. Chris Hermann doubled off the top of the wall and played good defense. Alex Johnson had two rbi hits and played solid defense. Bob Pfaff also had an rbi double to lead the Apollos.
---
Game 2 Apollos 9 Saints 0
---
Derek David and Jose Molina walked three times and the Saints pitchers walked 12 batters in 4 innings, The Apollos also forced the Saints into numerous errors. Ramsey Nino threw a complete game 4 inning shutout striking out 5 and walking 4.
---
Game 1 (Exhibition Game) Houston Apollos 17 Bay Area Toros 12
---
The Apollos were invited to play an exhibition game against the new Continental Baseball League's Bay Area Toros. The game served as the final exhibition game for the Toros and the opening summer game for the Apollos. The middle of the Apollos lineup clubbed the baseball. Mike Wilson had a homer and a double, Manny Lujan hit two homers, Bob Pfaff had 4 hits including a homer. Derek David had three hits, Kyle Spangler Chris Herman and Alex Johnson had two hits. The Apollos did their damage in 5th inning by scoring 8 runs with Manny Lujan's homer, Bob Pfaff's single, Derek David's single, Kyle Spangler's single, Alex Johnson's double, Dand Yelovich's double, Andrew Dunn reaching on a error, Manny Lujan's 2nd homer of the inning. The Apollos used 7 pitchers. Steven Alexander pitched one innings allowing 4 runs. Louis Lee pitched 2-1/3 inning allowing 1 run. Brian Dupree pitched 2/3 inning allowing 4 runs. Hare pitched to two batters not getting an out. Kyle Spangler pitched 1-2/3 innings allowing one run. Andrew Gay pitched 2-1/3 innings allowing 3 runs. Pierce Mulvaney closed out the game pitching 2/3 of an inning.